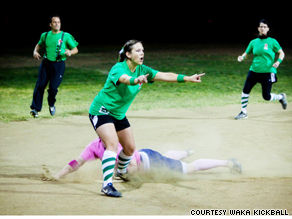 CNN) -- The World Adult Kickball Association, one of the largest kickball organizations, has spread its tentacles to 33 states as well a soldier division in Iraq. WAKA Kickball began as a casual game between a few young single friends in their 20s in Washington, D.C. Now, the games appeal to tens of thousands of adults, many of them yuppies wanting a quick escape from the stresses of their first 401(k), mortgage and job.
"I played soccer growing up, and I like competition," says avid kickball player Marlon LeWinter, 28, of New York City. LeWinter, a public relations executive, usually plays the position of center with a bunch of producers, writers and analysts in their late 20s. They named their team Chipwich Nation after they scarfed down the cookies-and-ice cream treat at a bar after a game one night.
"Sometimes when it's [the score] two to one in a kickball came, I get the jitters," he says.
The economic bind also creates a favorable environment for adults to latch onto simple children's games and sports. With players who are trapped in a world of layoffs and job freezes, these adult leagues, contests and tournaments are the equivalent of sandbox time for children. They can make new friends and go for a beer after the game. These activities are also budget-friendly, costing less than $100 to join for several months of play -- much less than a golf club membership.
Link to the whole article(http://www.cnn.com/2009/LIVING/08/11/men.play.juvenile.games/)